Come Join the Adventure
NOTE: Tour is FULL for 2019. We do have a waiting list, however. If you would like to be put on the list contact [email protected].


Tour Includes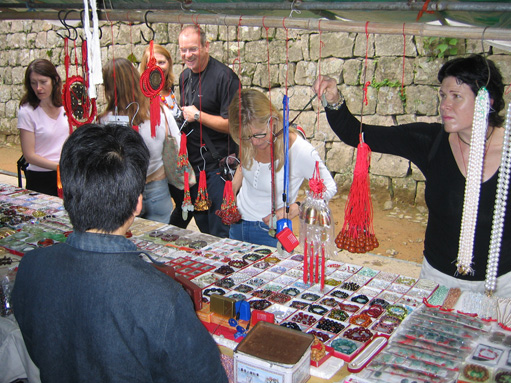 Deluxe hotel accommodations
Double occupancy (If you do not have a room mate or prefer a single room, a single supplement must be purchased.)
Traditional Chinese cuisine lunches and dinners (& western breakfasts)
English speaking guides
Private transportation
Cultural performances
Entrance fees to all venues and cultural programs
14 delightful nights and 15 adventure filled days await you in the beautiful land of China. Join us for a unique journey as we travel in our private coach from the capitol city of Beijing thoughout the countryside where most tour groups have never explored. Take in first hand the feng shui wonders of this vast country. We have painstakingly planned out this itinerary for an adventure helping you to personally touch and experience the culture and people of China. It is of the upmost importance to us that you will experience the perfect environment to absorb and learn the many layers of the complex environmental science of Feng Shui. You will literally FEEL the Feng Shui as you travel and observe.
I'm Loving This! Tell Me More…
Tour Includes
Highlights
Visit the important Feng Shui Landmarks in China including The Great Wall, Forbidden City, Temple of Heaven, The Lama Temple, Kuan Yin's Island Paradise, West Lake, Shanghai and more!
Three Feng Shui classes led by Chinese Masters.
Delicious Chinese meals and choice of Western Breakfasts. Vegetarian or Standard meal plans available.
All deluxe 4 and 5 star accommodations throughout the tour.
Itinerary 
Meals included in the trip costs are indicated in parentheses in each day's heading:
B=Breakfast
L=Lunch
D=Dinner
NOTE: Itineraries are subject to change due to local conditions and/or discretion of tour leaders. Feng Shui Designs / ChinaStudies 800-551-2482 / 530-988-8616
First Week – October 2019
Day 01 Beijing
Beijing Arrive at Beijing International Airport. Transfer to Hotel. Free evening.
Day 02 Beijing (BLD)
Morning orientation. Tour the large city square in the center of Beijing, Tian An Men Square. Named after the Tian An Men Gate – Gate of Heavenly Peace, it separates the square from the Forbidden City in the North. The square contains the monuments to the heroes of the revolution, Great Hall of the People, National Museum of China and the Chairman Mao Zedong Memorial Hall. After lunch, we wander the famous ancient Feng Shui architecture of the Forbidden City. This was the Chinese Imperial Palace of the Ming and Qing Dynasties (1420 – 1912). The private city was home to Emperors as well as the ceremonial and political center of Chinese government for almost 500 years.
Day 03 Beijing (BLD)
Tour a Jade Factory and learn about the various types of jade found in China. Watch the artisans work their exquisite pieces of jade into collectors items. After lunch we will travel to the awe-inspiring Ming Tombs and walk the path of the Sacred Way. Known as the road leading to Heaven, the Sacred Way is lined on both sides by 12 figures of Royal officials and 24 Animal statues each with its own symbolism. After lunch, we spend the afternoon with a short climb and then revel in the awesome view of the sunset from the fabled Great Wall.
Day 04 Beijing (BLD)
Visit Yong He Gong Temple (Lama Temple) of Tibetan Buddhism. Over 300 years of rich imperial and Tibetan Buddhist history. We'll go through its five stunning halls, including the Hall of Boundless Happiness, housing a huge standing statue of Buddha: at 26 meters high, carved from a single piece of sandalwood.
Enjoy a late afternoon Rickshaw tour of Beijing's ancient Hutong District. The narrow streets and alleys forming courtyards in their centers were common in Northern Chinese ancient cities. Experience how the ancient Beijing residents lived up until modern renovations began in the 20th Century.
Day 05 Beijing (BLD)
Morning visit to the Temple of Heaven where ancient Ming Emperors made an annual pilgrimage to pray for bountiful harvests. The Temple is considered one of the holiest locations of Imperial China and is a UNESCO World Heritage site. After lunch we will visit a Silk Factory to witness the ancient art of weaving silk from the silk worm cocoons. Enjoy a free afternoon in the capitol city until dinner. After dinner, take in the exciting Shao Lin Kung Fu Show.
Day 06 Beijing-Pingyao (BD)
Transfer to train station and board bullet train to Pingyao. Pingyao still retains its city layout from the Ming and Qing dynasties, conforming to a typical Ba gua pattern. More than 300 sites in or near the city have ancient ruins. Preserved Ming and Qing-style residences number close to 4,000. The streets and storefronts still largely retain their historical appearance. Pingyao is one of the most well-preserved World Heritage Sites in China. Transfer to Kylin Hotel.
Day 07 Pingyao (BLD)
Tour the streets of Old Pingyao to discuss architecture and view the famous ancient banks and security companies in this ancient town. From the top of the grand City Wall, you have a bird's-eye view of the Old City, a complete city built almost a thousand years ago.
Day 08 Pingyao-Taiyuan-Hangzhou (BLD)
Transfer to Taiyuan and visit Yuci Ancient Town, Jinci Temple on the way. Transfer to airport for flight to Hangzhou. Hangzhou is considered the most beautiful city in China. Home to famous West Lake and beautiful gardens. Transfer to Wanghu Hotel on West Lake.
Second Week – October 2019 
Day 09 Hangzhou (BLD)
Sample China's most famous tea at the Dragon Well Tea Plantation. After lunch we visit the famous Medicine Buddha Temple (Lin Ying) home to world heritage cliff carvings.
Day 10 Hangzhou-Suzhou(BLD)
Travel to beautiful Suzhou famous for it's Water and Garden Culture. The city's canals, stone bridges, pagodas, and meticulously designed gardens have contributed to its status as one of the top tourist attractions in China. The Classical Gardens of Suzhou were added to the list of the UNESCO World Heritage Sites in 1997 and 2000. Suzhou is often dubbed the "Venice of the East" or "Venice of China".
Day 11 Suzhou(BLD)
We spend a full day visiting gardens and floating down Suzhou's main canal to see the city from unique perspective.
Day 12 Suzhou-Shanghai (BLD)
Transfer to Shanghai. Check into Bund Hotel or similar. Free Time.
Day 13 Shanghai (BD)
Visit the Yuyuan Garden and the bordering Old Town Bazaar. Visit Tianzifang Ancient Neighborhood. In both places you can find great bargains on last minute souvenirs and snacks.
Day 14 Shanghai (BD)
Free Afternoon. Enjoy all that Shanghai has to offer; first-class restaurants, world famous shopping and exciting architecture. Meet in the evening for our farewell dinner.
Day 15 Shanghai (B)
Departure to home.
Registration and Tour Price 
Tour is currently full. We do have a waiting list however. If you would like to be put on the list contact [email protected]….Thank you.
INCLUDED IN TOUR PRICE:
Flight/s within China. Deluxe hotel accommodations (4 & 5 star or best in town) – based on double occupancy (single room rate is an additional $900.00), traditional Chinese cuisine lunches and dinners as noted in itinerary (You may choose either vegetarian or standard), western style breakfasts, English speaking guides, private transportation, cultural attractions and entrance fees and all classes.
NOT INCLUDED IN TOUR PRICE:
International airfare to and from China, airport transfers, all passport applications, fees and China entry visa, all personal hotel amenities, gratuities (apx. $7/day) and expenditures.
Accommodation 
All hotels are double occupancy unless a single supplement is purchased. All four and five star hotels where available. All meals (except last evening in Shanghai) in China are included with the tour. You may choose either vegetarian or standard.
Transportation 
All internal air and land transportation are included in tour cost. Please limit your checked baggage (44 lbs. max – and that is too much!) . We recommend traveling as light as possible. This trip is not overly strenuous, but there will be a moderate amount of walking and physical demands.
Travel Documents 
All tour participants must hold a valid passport with an expiration at least six months after the end of the tour. All passport applications, fees and visa to China are the responsibility of the tour participant.
Insurance 
We strongly recommend a trip cancellation, accident and baggage insurance policy. Call us for best rates and a brochure. See link at bottom of page.
Cancellation 
If it becomes necessary for you to cancel, notify ChinaStudies / Feng Shui Designs, Inc. in writing or by fax immediately. If your roommate cancels you must purchase a single supplement. The following cancellation charges will apply: Non-refundable cancellation charge…$297.00 per person. 30 to 15 days before departure…25% of tour cost. 14 to 8 days before departure…50% of tour cost. 7 days to day of departure-No refund.
If you would like to talk to a REAL LIVE PERSON, please call us at 1-800-551-2482 or 707-237-5132 between 10am and 4pm Pacific and we will be happy to discuss details with you.
Flights from the U.S. are generally between 10 – 14 hours in length. Extra nights: For those wishing to arrive in Beijing an extra day or two before the tour begins, or those who wish to extend their stay in Shanghai after the tour ends, we would be happy to book additional nights at the same or similar hotel (please call for rates).
The Cuisine
Let's get this straight from the beginning – all meals are sumptuous Chinese banquet and buffet style servings. Don't worry about whether you can or cannot eat something. There is something for everyone! If you enjoy meat dishes, we generally have beef, pork, chicken or seafood. For our vegetarians, we have delicious and carefully prepared non-meat dishes. You can even switch back and forth if you like. Breakfasts are usually at the hotel morning buffet, serving lots of Western dishes; eggs, bacon, toast, fruit, juices and a full variety of other breakfast items.
Since we are usually out and about during the day, most lunches and dinners will be served in carefully picked restaurants. And, of course, you are free to eat out on your own at any time. Simply put "The Food is Fabulous!"