Come Join the Adventure

Tour Includes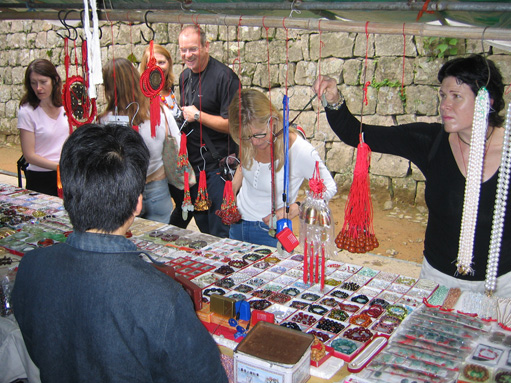 Deluxe hotel accommodations
Double occupancy (If you do not have a room mate or prefer a single room, a single supplement must be purchased.)
Traditional Chinese cuisine lunches and dinners (& western breakfasts)
English speaking guides
Private transportation
Cultural performances
Entrance fees to all venues and cultural programs
14 delightful nights and 15 adventure filled days await you in the beautiful land of China. Join us for a unique journey as we travel in our private coach from the capitol city of Beijing thoughout the countryside where most tour groups have never explored. Take in first hand the feng shui wonders of this vast country. We have painstakingly planned out this itinerary for an adventure helping you to personally touch and experience the culture and people of China. It is of the upmost importance to us that you will experience the perfect environment to absorb and learn the many layers of the complex environmental science of Feng Shui. You will literally FEEL the Feng Shui as you travel and observe.
I'm Loving This! Tell Me More…
Tour Includes
Highlights
Visit the important Feng Shui Landmarks in China including The Great Wall, Forbidden City, Temple of Heaven, The Lama Temple, Kuan Yin's Island Paradise, West Lake, Shanghai and more!
Three Feng Shui classes led by Chinese Masters.
Delicious Chinese meals and choice of Western Breakfasts. Vegetarian or Standard meal plans available.
All deluxe 4 and 5 star accommodations throughout the tour.
Itinerary 
Meals included in the trip costs are indicated in parentheses in each day's heading:
B=Breakfast
L=Lunch
D=Dinner
NOTE: Itineraries are subject to change due to local conditions and/or discretion of tour leaders. Feng Shui Designs / ChinaStudies 800-551-2482 / 530-988-8616
First Week – October 2023
Day 01 Beijing
• Beijing: 4 Nights
• Arrive at Beijing International Airport
• Check into hotel and get a good night's rest
• Free Evening
Day 02 Beijing
• Morning Orientation before departing hotel
• Tour Tian An Men Square
• Practice dowsing on the main Dragon Line
• Connecting to the Dragon Throne in the Forbidden City
• After lunch, wander the famous ancient architecture of the Forbidden City
• Breakfast, Lunch, Dinner
Day 03 Beijing
• Visit the Sacred Way, a grand protective entrance to the Ming Tomb area
• Walk the grand entrance of the one mile path through the willow trees and protective statues
• Take in the silence so rare to Beijing
• On our way to the Great Wall we will stop for lunch and a tour through a Jade Factory where we will learn about the various types of Jade
• Onward! We will travel to the outskirts of Beijing to walk the steps of the Great Wall
• We will be just in time to observe the sunset from such an amazing location
• Breakfast, Lunch, Dinne
Day 04 Beijing
• Visit Yong He Gong -Lama Temple, the largest Tibetan Buddhist temple complex outside of Tibet. The temple is a "living" temple, which is that it is a working temple not a museum. The temple is home to solely Tibetan and Mongolian monks
• Free time to browse the shopping streets surrounding the Temple
• In the afternoon we will take a rickshaw tour through a local neighborhood and see up close the old Hutongs of Beijing
o Breakfast, Lunch, Dinner
Day 05 Hangzhou
• Hangzhou: 2 Nights
• Morning flight to Hangzhou, one of the most beautiful cities in China and home to the famed West Lake and world class gardens
• Visit the Six Harmonies Pagoda on West Lake and take in the gorgeous views of the lake
• Enjoy some free time until dinner
• Breakfast, Dinner
Day 06 Hangzhou
• Morning visit to the Yin Ling Temple of the Medicine Buddha
• After lunch we will set out for a tour of the tea fields of the Dragon Well Tea Plantation
• Dragon Well is the premium tea of the Emperor
• Breakfast, Lunch, Dinner
Day 07
Hangzhou
•Breakfast, Lunch, Dinner
Note: Itinerary subject to change at tour leaders discretion.
Second Week – October 2023 
Day 08 Pu tuo Shan Island
• Pu tuo Shan Island: 3 Nights
• In the morning we will travel by coach to Ningbo Harbor to continue our tour to Pu tuo Shan Island
• This island is the spiritual home of the Bodhisattva of Compassion, Kuan Yin for over 1,000 years
• This small island is off the beaten path of tourists and is primarily visited by Buddhist Pilgrims
• Breakfast, Dinner
Day 09 Pu tuo Shan Island
• During our time on sacred Pu Tuo Shan we will visit many of its sacred grottos, temples, a nunnery and more
• Each visit to this island we have made takes on its own unique story, with help from the Bodhisattva herself
• Breakfast, Lunch, Dinner
Day 10 Shanghai
• Shanghai: 2 Nights
• Travel to Shanghai
• Explore Shanghai and choose your own dinner this evening!
• Breakfast
Day 11 Shanghai
• Visit Tianzifang, a touristic arts and crafts enclave that has developed from a renovated traditional residential area in the French Concession area of Shanghai
• Spend the afternoon and meet back at the hotel for farewell dinner
• Breakfast, Dinner
Day 12 Shanghai
• Transfer to airport for flight home
• Breakfast
Registration and Tour Price 
$3897. Save $300 if registered by May 1. Pay only $3587.
INCLUDED IN TOUR PRICE:
Flight/s within China. Deluxe hotel accommodations (4 & 5 star or best in town) – based on double occupancy (single room rate is an additional $900.00), traditional Chinese cuisine lunches and dinners as noted in itinerary (You may choose either vegetarian or standard), western style breakfasts, English speaking guides, private transportation, cultural attractions and entrance fees and all classes. Note: Itinerary subject to change at tour leaders discretion.
NOT INCLUDED IN TOUR PRICE:
International airfare to and from China, airport transfers, all passport applications, fees and China entry visa, all personal hotel amenities, gratuities (apx. $7/day) and expenditures.
Accommodation 
All hotels are double occupancy unless a single supplement is purchased. All four and five star hotels where available. All meals (except last evening in Shanghai) in China are included with the tour. You may choose either vegetarian or standard.
Transportation 
All internal air and land transportation are included in tour cost. Please limit your checked baggage (44 lbs. max – and that is too much!) . We recommend traveling as light as possible. This trip is not overly strenuous, but there will be a moderate amount of walking and physical demands.
Travel Documents 
All tour participants must hold a valid passport with an expiration at least six months after the end of the tour. All passport applications, fees and visa to China are the responsibility of the tour participant.
Insurance 
We strongly recommend a trip cancellation, accident and baggage insurance policy. Call us for best rates and a brochure. See link at bottom of page.
Cancellation 
If it becomes necessary for you to cancel, notify ChinaStudies / Feng Shui Designs, Inc. in writing or by fax immediately. If your roommate cancels you must purchase a single supplement. The following cancellation charges will apply: Non-refundable cancellation charge…$297.00 per person. 60 days before 50% of tour cost. 30 days to day of departure-No refund.
*Travel insurance will protect you if you must cancel and is strongly recommended. In the case of tour cancellation by ChinaStudies / Feng Shui Designs, Inc., all moneys will be refunded. ChinaStudies / Feng Shui Designs Inc. reserves the right to cancel if less than 10 participants are registered 60 days before tour begins. Should you need to cancel, all payments made including the deposit may be transferred to another tour or course. If you would like to talk to a REAL LIVE PERSON, please call us at 1-800-551-2482 or 707-237-5132 between 10am and 4pm Pacific and we will be happy to discuss details with you.
Flights from the U.S. are generally between 10 – 14 hours in length. Extra nights: For those wishing to arrive in Beijing an extra day or two before the tour begins, or those who wish to extend their stay in Shanghai after the tour ends, we would be happy to book additional nights at the same or similar hotel (please call for rates).
The Cuisine
Let's get this straight from the beginning – all meals are sumptuous Chinese banquet and buffet style servings. Don't worry about whether you can or cannot eat something. There is something for everyone! If you enjoy meat dishes, we generally have beef, pork, chicken or seafood. For our vegetarians, we have delicious and carefully prepared non-meat dishes. You can even switch back and forth if you like. Breakfasts are usually at the hotel morning buffet, serving lots of Western dishes; eggs, bacon, toast, fruit, juices and a full variety of other breakfast items.
Since we are usually out and about during the day, most lunches and dinners will be served in carefully picked restaurants. And, of course, you are free to eat out on your own at any time. Simply put "The Food is Fabulous!"